You Can Feel Your Twin Flame's Presence, Feelings & Emotions
It is quite a strong and intense feeling.
35
members found this to be effective.
It's your turn now! Let's support each other by clicking "Helpful".
Twins Flames are connected through their chakras and their energy is identical. Telepathy is an integral part of it, depending on the level of connection and mental connection the twins have. It can come in waves and spurts, but it happens, then it doesn't and then it happens again. (Tip: if you are able to read his/her mind, don't judge anything. We all have demons and darkness. If you encounter it, accept it for what it is and love.)
As your chakras continue to open and connect, it can be quite intense. Sometimes it gets so intense, one of them can't take it and starts to run. It's not rejection or something that the other twin did. It just happens. It is extremely important not to chase the twin runner, learn from others who have gone through this before you. Chasing leads to more running. Give it time and he/she may/will return. Sometimes, a twin needs space to sort things out. Sometimes they have issues that needs to be resolved or open karmic contracts which needs to be fulfilled.
Feeling their presence is also part of the Twin Flame connection.
You can sense their presence, when they might call, what might be going on in their lives. Science might refer to this as quantum entanglement, but in terms of the spiritual, it is a soul connection and ultimately, it you are a Twin Flame, part of the Twin Flame process.
While you didn't ask this part, let me answer the questions you probably have been asking yourself:
No, you're not crazy or going crazy.
No, you're not obsessed because they are always on your mind.
No, it's not made up and all a big fairy tale fiction.
This is my understanding of how Twin Flames are connected.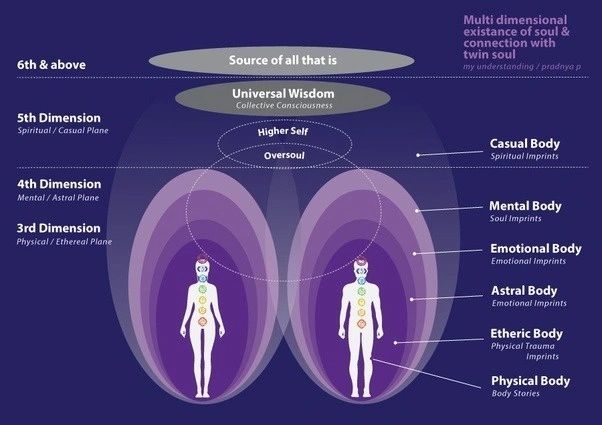 This image can explain, why we are always sensing and interacting with our Twin Flame in 4D and 5D.
Our soul is multi-dimensional. This means it exists in multiple dimensions concurrently. The energy body is attached to the physical body through the chakra system. However, the incarnated Soul is only a small part of our total soul energy.
Twin Flames share the same chakra system. The mental, emotional and casual body is one, (shown in the pic) therefore it is possible to sense them, feel them and hear them.
It is quite a strong and intense feeling.
You may feel their presence strongly as if they are sitting next to you!
Sometimes you just know what is up with them. Sometimes you have the same thoughts at the same time. I have validated this quite a few times with Twin Flame clients.
When Twin Flames get on all the levels (physical/ etheric/ astral / emotional /mental / spiritual - mentioned in the pic) completely and merge together, that is believed to be called as TF union.
What is the "surrender stage" in the Twin Flame journey, and when will you know if it is time to surrender. (Letting go of my Twin Flame)
Surrender! The most challenging stage of all! After a great roller coaster ride of connection and separation, the awakened twin has done everything he/she could do to make peace with their twin.
When nothing seems to work and you are experiencing any of the below emotional feelings, know that it is time to surrender:
I have done everything I can! I let go of my ego. I loved. I initiated the contact. I tried to be understanding. I forgave. But my twin just doesn't get it!
Feeling clueless and helpless!!
Am I going crazy?
Does he/she have the slightest clue what kind of pain I am going through?
Does The Universe, God, Spirit want me to forget him/her and move on? Really?
Have I really lost the person I love the most?
It is time to surrender!!
The surrender stage comes in when all human efforts with logic have been done, and nothing works.
When you surrender, you give the control to The Universe, God Spirit and you have full faith that what is meant for you will not pass you by. You release your Twin Flame with love and grace.
(The image I have posted describes it quite well.) When you surrender, you release control, believing 100% that The Universe, God, Spirit will take care of you.
What do I exactly mean by letting go of the control?
1. DO NOT expect things in a certain timeline or manner. (eg. I want my twin flame to come back in the next two months. I have to work this out before I turn 30, or even that he/she will come back to you at all.
2. Do not put a condition to the situation or to your mindset .
3. Stop your thinking mind / stop checking.
Stop checking when they are on WhatsApp, stop checking social media pages like Facebook, Instagram, LinkedIn etc.
Get into a 0 resistance zone.
Focus on healing yourself, practice self love, find out what your true life purpose is, spend time with friends and family, start living your own life.
You know that there is a gravitational force which is one of The Universal Law's.
That means, if he/she is your Twin Flame, they will return to you. When you surrender and let go of your Twin Flame runner, you activate "The Dark Night Of The Soul," in them, just like you experienced when you surrendered. Your Twin Flame activated "The Dark Night Of The Soul" in you.
Once they have healed, they will be drawn back to you. They will experience loss, pain and longing to be with you. You and your Twin Flame can only come into union when you are both healed in this lifetime.
Your Twin Flame may never be able to let go of their "ego self", this means that they will not experience the Twin Flame Union with you in this lifetime.
You need to understand that you may never be in union with your Twin Flame, so do not wait for them to return.
Surrender any expectations, beliefs, your love, everything you felt and did in this journey.
Surrender to The Universe, God, Spirit and know that you are both loved and divinely guided.
When your Twin Flame returns you become a divinely guided, power couple in The Universe.
That is when you are able to manifest great abundance in health, wealth and success easily, through your "Life Purpose", by helping others awaken and discovering their true "life Purpose".
I will post a new article shortly about "The Purpose of The Twin Flames".
Articles that helped others